Kefron
SME AI Business Impact Award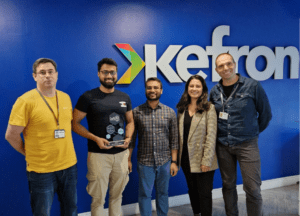 Kefron AP is one of the fastest growing AP automation solutions in the world with 113% average annual revenue growth over the past 5 years, supporting over 250 customers across the UK and Europe. Through their partnership with CeADAR via the Enterprise Ireland Innovation Partnership Programme, Kefron has developed an artificial intelligence extraction model that increases the quality of the data digitisation process using Computer Vision.
Computer Vision significantly reduces the time it takes to automatically process documents, supporting their large customer base in adopting AI solutions for high-level growth.
Paul Kearns, Managing Director of Kefron highlights the importance of data extraction accuracy:
'At Kefron we know that lots of competitors promise levels of accuracy that they can't deliver. Data accuracy however is critical to the successful performance of any AP system. That's why we have focused on combining AI with our expert Extraction Team to deliver a service of continuous improvement for the best possible levels of accuracy.'
Kefron AP is a specialist Accounts Payable invoice automation SaaS solution developed by Kefron to assist businesses with the management of supplier invoices to improve visibility, control and efficiency.
Only Kefron AP combines AI technology with an expert Extraction Team as standard to continuously improve touch-free accuracy for the easiest, most versatile and connected AP software possible.
With a simple-to-use interface supported by AI Computer Vision, Kefron AP eliminates manual effort and digitally transforms finance teams looking for efficient invoice management, fast approvals and real-time reporting.
Effortlessly integrate with your accounting system and join 250+ businesses shifting from a reactive to a proactive AP invoice process that simply flows.